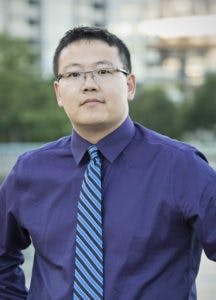 Sibo has nine years real estate experience and is a member of one of the most productive RE/MAX offices in B.C.'s Lower Mainland. He chose RE/MAX, which conducts one out of three real estate transactions in Canada, for its larger inventory and faster access to clients, and to be able to draw upon the depth of experience of his team. Sibo brings his formal business education along with banking and mortgage experience, as well as fluency in Mandarin and Cantonese to round out his professional competence. His personal mission is to assist his
valued clients in making one the most important investment decisions of their lives.
Sibo and his family are extremely happy making their exciting life in Surrey, B.C., where they have lived for the past nine years, having relocated from Beijing, China. With two lovely young sons, their community life is full of an ever-expanding circle of friends who enjoy raising their families in a wholesome and safe neighbourhood. These are the residential areas where Sibo is dedicated to helping others find a place to call home. Sibo enjoys taking the time to be an active contributor to the community he is proud to live in. His friends, neighbours and colleagues are always keen to recommend Sibo for his honesty, integrity, reliability and his genuine friendliness in all his relationships.